Experience Luxury with Toronto Bus Service
6Party Bus Toronto is a premium Bus and Limo rental company in Toronto. We provide excellent hospitality to our passengers. If you want to host a party or arrive at a party in style to make a statement, Our fleets of buses or limos are the way to go!
Hiring a Bus is a fantastic way to celebrate your next occasion. With modern and advanced features, it takes care of all the passenger's needs. Why look out for a place to party when you can party while travelling to your desired location? Contact 6Party Bus Toronto and get a free quote today!
Why Choose 6Party Bus Rental Services?
Large fleet of Buses and Limos to choose from.
Lucrative deals are available year round on our rental services.
A team of professional customer support is available 24x7.
Regular inspection and cleaning of the interior of our vehicles.
Trained and certified chauffeurs to give you a safe and comfortable ride.
Regular checkups by professional technicians to ensure the proper working of the vehicle.
You get affordable travel packages with us.
You get a hassle free booking with us.
Passengers and the goods will be insured throughout the journey with our Party Bus Rentals service.
You can request a distinct ambiance inside with our party buses. This includes selecting the type of lighting and music.
Our Services
Toronto Party Bus services can be used to partner with a range of your special occasions.
Book Our Best Ground Transportations For Leisure and Business
Ride Premium, Pay Minimum
Light-up your every Occasion with Party Bus Amazing Features
With our party bus services, you get an experience at par with any club in town. Furnished wooden flooring, disco lighting and a powerful sound system in our Toronto party Buses will take care of all your clubbing needs. Also, to fulfill all your multimedia needs, our bus comes with a Large TV Screen which is visible to the entire cabinet. You can play any movies or games with your friends or family to enhance the fun and enjoyment.
With regard to the privacy of the passengers, our Bus or Limo comes with a tinted window. So, you don't have to worry about someone peeking into your privacy from outside while you celebrate. Moreover, the passenger compartment is separated from the driver to give you maximum privacy. If you have any queries to ask, you can communicate with your chauffeur through an intercom facility.
We make sure that your enjoyment does not stop for taking a washroom break. Our Toronto Party Bus rentals come with a clean and hygienic washroom with a sink and exhaust. With all the party going on, our party bus services provide you with comfortable leather seatings on which you can sit and relax while you enjoy your refreshments.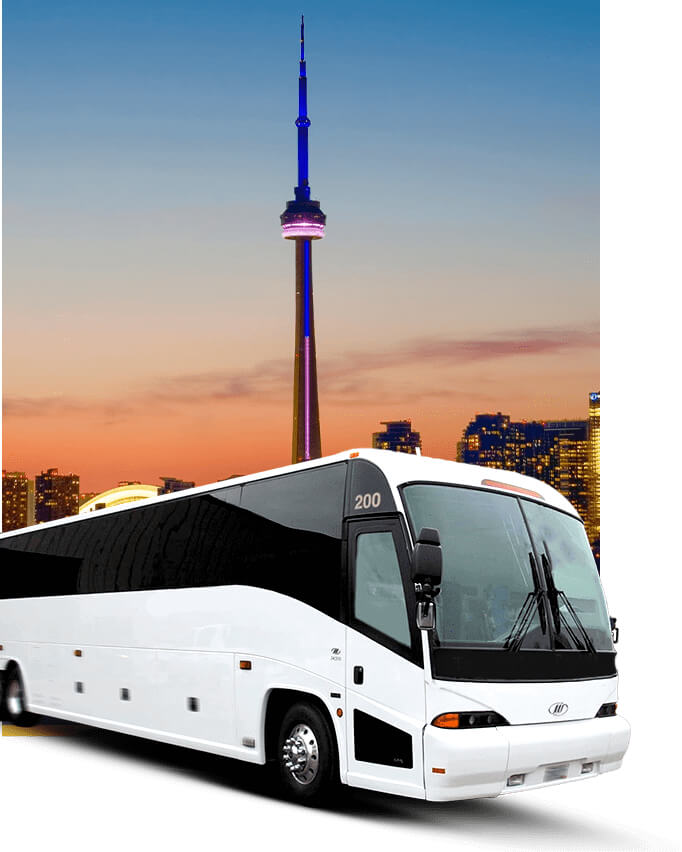 Testimonials
""I had the pleasure of hiring their bus services for my daughter's birthday party, and it was indeed a night to remember! The staff were incredibly helpful throughout the entire process and went above and beyond to make sure the event was a success. The bus was spacious and well-maintained, and the driver was professional and courteous. My daughter and her friends had a blast and were all smiles throughout the entire ride.""
""I recently had the pleasure of attending an event hosted by them, and it was a night to remember! The bus was spacious, clean, and well-maintained. The staff were friendly, professional, and accommodating. They went above and beyond to ensure everyone on board was comfortable and having a great time. The driver was knowledgeable and kept everyone safe during the entire ride.""
""I recently hired them for an event, and it was a great decision! The staff were friendly and professional and went above and beyond to make sure everything was taken care of. The bus was spacious and well-maintained, and the driver was knowledgeable and kept everyone safe during the entire ride. Everyone had a great time, and the staff made sure the event went smoothly from start to finish.""
""Me and my friends were thrilled with the experience of their bus for our party. I highly recommend it, especially when you are set for a one-time occasion like prom.""